Envy with Windows 7 users who get Desktop Slideshow feature which automatically rotates and changes desktop background wallpapers at periodic timing? Although Windows XP, Windows Vista, and Windows Server operating systems do not include a desktop wallpaper switcher or rotater by default, there are plenty of free wallpaper rotation utilities that are available, including John's Background Switcher (JBS).

John's Background Switcher is an application software that sits in system tray (now known as notification area) and periodically changes the wallpaper on computer's desktop at preset interval. The main feature of John's Background Switcher is ability to make use of wide range of image or photo sources as wallpaper for rotation. The pictures can be picked from:
Individual pictures on your computer.
Folders containing pictures on your computer such as 'My Pictures'.
Flickr photo sharing – selecting pictures by person, tags, sets or just plain random.
Phanfare web albums.
smugmug photo galleries.
Picasa Web Albums – choose from specific albums or any search text.
Facebook – your friends photos on your desktop!
Yahoo! image search.
Any Media RSS feed – choose pictures from sites like DeviantArt, Photobucket, LOLCats and Zooomr amongst many others!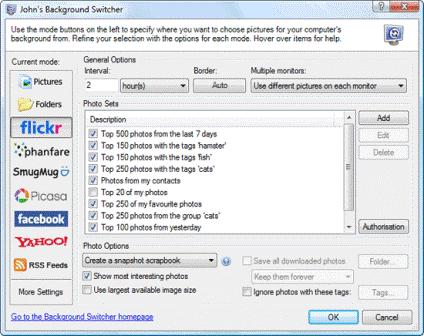 JBS also has more fine-tuning options which are available from the 'More Settings'. The configuration or customization options available include displaying a 3-month calendar on desktop, make the backgrounds always to be sepia in color, shuffle all photos in 'Folders' mode, change background every startup, multiple monitor support, battery-conservation settings, various effects such as softening and etc.
Best of all, Jason's Background Switcher is free to download. Current version of JBS is version 3.6, and can be downloaded from direct download links below. Future versions and updates can be found here.