The worldwide leader in smart made simple computing accessories, Kensington Computer Products Group has introduced the world's first USB-IF certified Wireless USB universal docking station, which incorporates 5 USB ports, DVI-I as well as speaker port for efficiently connecting to USB peripherals, external monitor and audio speakers without having to plug and unplug anything in your work environment, allowing an instant and seamless connection of your peripherals to your Wireless USB-enabled notebook.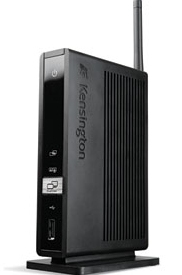 "We are pleased to see Kensington continue the innovation of Wireless USB products with the introduction of a Wireless USB Docking Station," said Jeff Ravencraft, USB-IF President. "This solution provides a new usage scenario that supports workstation functionality while enhancing consumers need for convenience, productivity and mobility in the home or office environment."
"Our entire smart made simple design philosophy is about giving users the easiest, most intuitive computing experience," said Frederic Frappereau, Global Product Manager, Kensington. "We're especially proud to be the first to introduce a universal wireless docking station because nothing could be easier or more intuitive than having your accessories spring to life as you approach them with your notebook. We know that Wireless USB notebook users are extremely busy mobile professionals who appreciate every efficiency they can gain, so they can stay productive at all times."
Main Features Of Kensington Wireless USB Docking Station (SKU K33920US):
Ease of use and convenience – After the initial easy pairing process, the notebook automatically connects to the docking station as soon as it comes into range, instantly bringing your external monitor, audio speakers and USB devices to life, saving the time and hassle of plugging and un-plugging peripherals for increased productivity.
Easy accessibility – Works with all Wireless USB-enabled notebooks. Added comfort of being able to work in an unconfined position unlike traditional tethered docks. The Kensington Wireless USB Docking Station is a wireless gateway between your new Wireless USB notebook and legacy USB devices: any device plugged into the wireless docking station can be controlled by your paired notebook wirelessly.
DualView technology – Push a button to access second monitor in mirror or extended view mode to easily extend your desktop and increase productivity; DVI connection provides sharper images.
Speaker connectivity – Connect external speakers to get better sound quality.
Desktop clutter reduced – Reduces cable clutter with wireless connection between dock and notebook.
"As an early adopter of Wireless USB technology, Dell now offers it as an option on several consumer and commercial notebooks and mobile workstations," said Ryan Salm, of Dell's wireless product management team. "The advent of complementary products like the Wireless USB Docking Station from Kensington not only contributes to a clean, clutter free desktop, but further enhances mobility and productivity."
The new Kensington Wireless USB Docking Station is expected to be available later this month for about $230.