Amazon.com, Inc. has announced that its famous Kindle for iPhone App is available now as a free download in over 60 additional countries through the App Store. The e-reader mobile application allows customers around the world to access to Kindle Store using their iPhone or iPod touch, featuring Amazon's Whispersync technology that able to back up and synchronize annotations with your other Kindle devices.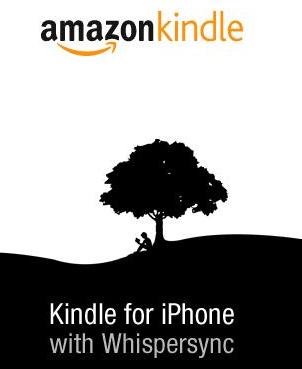 "We are excited to make the Kindle for iPhone App available to iPhone and iPod touch users in more than 60 countries, allowing them to access the vast selection of the most popular books, all available wirelessly from the Kindle Store," said Ian Freed, vice president for Amazon Kindle. "The Kindle for iPhone App is the perfect companion for customers who own a Kindle or Kindle DX, and a great way for customers around the world to download and read books even if they don't yet have a Kindle."
Features of Kindle for iPhone App:
Purchase, download and read more than 360,000 books from Kindle Store
Read the first chapter for free before download/buy
Add and automatically synchronize bookmarks and last page read
Access library of previously purchased/downloaded Kindle books stored on Amazon's servers for free
Select alternate background and text colors to improve reading comfort in low light conditions
6 different font sizes and adjust words per line
Read in portrait or landscape mode
Tap on either side of the screen or flick to turn pages
Pinch to zoom images in books
Tap and hold on a word to create a note or highlight
Add and view notes and highlights marked on Kindle and Kindle DX
Read books in full color including children's books, cookbooks, travel books, textbooks and graphic novels
According to Amazon, Kindle for iPhone App is now available for customers in Argentina, Australia, Austria, Belgium, Brazil, Canada, Chile, Colombia, Costa Rica, Croatia, Czech Republic, Denmark, Dominican Rep., Ecuador, El Salvador, Estonia, Finland, France, Germany, Greece, Guatemala, Honduras, Hong Kong, Hungary, India, Ireland, Israel, Italy, Jamaica, Japan, South Korea, Latvia, Lithuania, Luxembourg, Malta, Republic of, Mexico, Moldova, Republic Of, Netherlands, New Zealand, Nicaragua, Norway, Panama, Paraguay, Peru, Philippines, Poland, Portugal, Romania, Russia, Slovakia, Slovenia, South Africa, Spain, Sri Lanka, Sweden, Switzerland, Taiwan, Thailand, United Kingdom, United States, Uruguay, Venezuela and Vietnam.