DDR3 memory module is on the way replacing DDR2 with both better pricing and performance and in order to cater for smaller design with better thermal dissipation, KINGMAX has unveiled a new heat dissipation technology for its next generation memory module. Named as Nano Thermal Dissipation Technology, it is intended to replace the bulky heatsink that would eventually enable better system thermal management design on smaller form factor end products.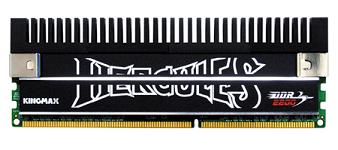 The new Nano Thermal Dissipation technology is based on the usage of tiny nano-size thermal silicon compound that can easily fill up invisible empty space so that the heat can be carried away more effectively. According to some reliable lab analysis data, the new DRAM module that employed such mechanism will be able to stay 2 deg Celsius lower than conventional DRAM module to ensure a proper and more reliable system without easily crashing especially suitable for gamers, enthusiasts or those users that emphasize much on highly intensive system running for long hours.
No exact pricing or how much additional cost incurred and its availability yet, the new solution is definitely a preferred way of reducing heat dissipation as a replacement of conventional huge size and bulky heatsink with potentially lower material cost in the long run.