A lot of users feeling completely piss off with the new Office Fluent ribbon interface in Microsoft Office 2007, and prefer the classic user interface in Microsoft Office 2003. Beside, the hefty and costly price tag of Microsoft Office suite also scares off some potential customers. OpenOffice.org is available as free alternative, however, unfamiliar and new learning curve also stops some users from converting.

If you're facing above dilemma, Kingsoft Office 2007 is a good alternative and replacement for Microsoft Office productivity suite. Kingsoft Office, which also known as WPS Office in China is an office suite developed by the Chinese software developer named as, obviously, Kingsoft.
The best thing about Kingsoft Office is that, since WPS Office 2002, its user interface has been designed to mimic and clone to bears resemblance to the Microsoft Office products' layout and features to the very last detail. As since WPS Office Storm 2005, the suite also provides full compatibility with Microsoft Office document formats, with ability to read and write documents, spreadsheets and presentations created by Microsoft Office 2000 – 2003, or save one in these formats. Of course, it's also compatible with OpenOffice.org.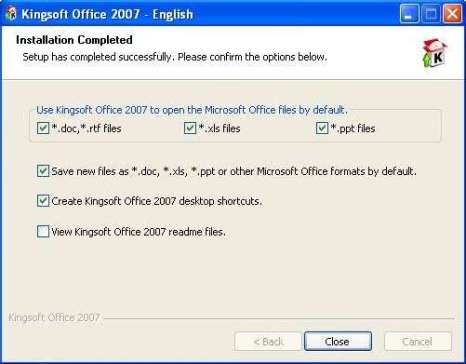 As a result, no training or training is required for users who switch over or migrate from Microsoft Office, dramatically reduced the amount of time required for user to make use of Kingsoft Office 2007 components, Kingsoft Writer, Kingsoft Spreadsheets and Kingsoft Presentation (equivalent to Word, Excel and PowerPoint) productively. And Kingsoft Office is cheap. It costs just between US$28 and $88 and license holder will also get a free six month subscription to anti-virus software Kingsoft Internet Security 2007.
Besides, Kingsoft Office 2007 also features built-in ability to export and save as PDF documents. It's small and compact download (less than 50 MB) with small memory footprint, making it possible to install and run on older computers, not bloated and has just enough most frequently used functions including support for Microsoft VBA (Visual Basic for Application) program language, while also is Windows Vista-compliant. Last but not least, and most attractive reason, is that Kingsoft Office 2007 Personal Edition is free, and nothing beats freeware.
Kingsoft Office Personal Edition has been released as freeware in China since WPS Office 2005, and currently WPS Office 2007 Personal Chinese Edition is available for free download, but not the English version. The English version of Kingsoft Office setup file downloaded and installed is still officially a trial version with 30 days expiry limitation, although user can send an email to request for KSO free license serial key. Luckily, an English edition of Kingsoft Office 2007 Personal has been distributed in Vietnam by Quang Minh DEC Software.
The free Kingsoft Office Personal 2007 has some limitations though. It doesn't allow users to open PDF (Acrobat) files, and it's ads-supported. Meaning that advertisements will appear on the right side of the screen in vertical bar, which cannot be removed or dragged minimize to hidden position. Nonetheless, the user interface of free Kingsoft Office 2007 Personal has been fully translated to English language, despite some ads related content may appear in Vietnamese.
The free Kingsoft Office 2007 Personal English Edition (Ads-Supported version 6.3.0.1626) can be downloaded from phanmem.dev.vn or use the following direct download link to setup_US_1033_6.3.0.1626_Personal_full.rar (contains setup_US_1033_6.3.0.1626_Personal_full.exe).