The famous thumb drive maker, Kingston Technology, has just created another new buzz in the industry by unveiling its new Data Traveler 300 which offers the world's largest memory data storage capacity. The new Kingston Data Traveler 300 is able to deliver 256GB memory storage for high-end users who need huge mobile storage facility for particular reasons.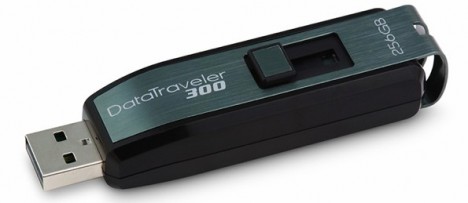 Measuring 70.68 x 22.37 x 16.45 mm in dimension, the typical Kingston Traveler design thumb drive features the same USB 2.0 interface that is used in most USB flash drives and computer devices. Data Traveler 300 is able to achieve transfer rates of up 20 MB/sec for reading and 10 MB/sec for writing. Besides facilitating users to carry massive data around, Kingston also includes a password traveler security software in the package. According to Kingston, up to 90% of the drive's content can be password protected and conveniently accessed via the new Password Traveler software.
The tiny Kingston Data Traveler 300 costs around £565.67or $924 with a five year warranty from Kingston.