Taiwan computer memory maker, Kingston Technology announced the availability of its Data Traveler ReadyFlash (DTR) USB Flash drive for use in Windows Vista-based systems. According to Kingston, this DTR is enhanced for Windows ReadyBoost and was designed and tested based on performance specification by Microsoft.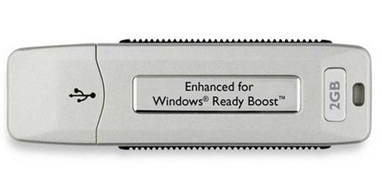 This new drive exceeds the minimum Windows ReadyBoost requirements of 5MBps (megabytes per second) for random 4KB data read access and 3MBps throughput for random 512KB data writes. When this device is connected to a Window Vista based PC, the Autoplay dialogue box will offer the option of using the device for Windows ReadyBoost. ReadyBoost allows one's system to utilize a memory source in addition to RAM for speeding up the new operating system. This feature is ideal for systems with limited memory expansion capabilities. For instance, if your notebook has a maximum memory capacity of 1GB installed, Windows ReadyBoost allows for usage of a Flash memory device, such as the DataTraveler ReadyFlash (DTR), as a more responsive storage medium for ReadyBoost cache.
Read up more from Kingston.