The world's largest independent manufacturer of memory products, Kingston has debuted a 8GB microSDHC memory card (product name: SDC4/8GB), aiming to offer greater storage options to the latest mobile devices for maximizing device performance.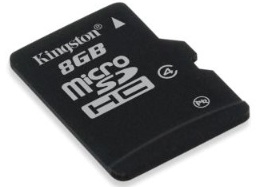 "Consumers are demanding more from their mobile phones, expecting them to double as music and portable game players, instant cameras, email communicators, browsers and navigators. Having enough storage capacity, particularly in the form of memory cards, keeps internal device memory free to deliver all this multi-functionality," said Wendy Lecot, Flash card business manager, Kingston. "Our 8GB microSDHC cards are so roomy that mobile users can easily move entire digital libraries from a PC to their mobile phones – and beyond."
Features/Benefits Of microSDHC Cards:
Compliant – with the SD Association Specification, Version 2.00
Versatile – can be used as full-size SDHC or miniSDHC card with appropriate adapter
Compatible – with microSDHC-enabled devices/readers only
File Format – FAT 32
Reliable – lifetime warranty
According to Kingston, "The microSDHC format is emerging as the predominant mobile memory standard as more handset manufacturers, including HTC, LG, Motorola, Nokia, RIM, and Samsung, embrace it with compatible mobile phones. Recent models tested with the new Kingston 8GB microSDHC card include the BlackBerry Pearl 8120; the LG evV2 (VX9100) and Voyager (VX10000); as well as the Samsung BlackJack II (i617) and Glyde (U940)."
The new Kingston 8GB microSDHC memory card that provides data transfer speeds of at least 4.4 MB per second is now available for $58.