The world's largest independent manufacturer of memory products, Kingston has launched its new 32GB Elite Pro SDHC flash memory card, seems perfect for users of today's digital video camcorders and other high-resolution imaging devices.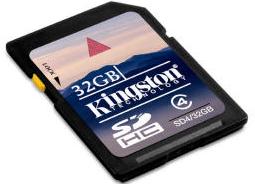 "With the growing popularity of digital video and the HD format, consumers continue to look for ways to extend recording times and maintain fast data transfer rates (DTR) to maximize the performance of their recording device," said Wendy Lecot, Flash business manager, Kingston. "Our new 32GB Elite Pro SDHC memory card is optimized to meet the demands of high capacity and fast write speeds to help consumers share their lives through the use of video, photography and other creative devices. With the addition of the 32GB capacity card, Kingston is at the forefront of offering a versatile line of SDHC solutions to solve a variety of needs in today's digital imaging world."
Features And Specifications Of Kingston 32GB Elite Pro SDHC Card:
Compliant: with the SD Card Association specification version 2.00
Secure: built-in write-protect switch prevents accidental data loss
Compatible: with SDHC host devices; not compatible with standard SD-enabled devices/readers
File Format: FAT 32
Reliable: lifetime warranty
Simple: as easy as plug-and-play
Capacities: 4GB, 8GB, 16GB, 32GB
Dimensions: 0.94. x 1.25. x 0.08. (24mm x 32 mm x 2.1mm)
Speed Class 4: 4MB/sec. guaranteed minimum data transfer rate
Operating Temperature: -13° F to 185° F (-25° C to 85° C)
Storage Temperature: -40° F to 185° F (-40° C to 85° C)
Voltage: 3.3V
The new Kingston 32GB Elite Pro SDHC card that able to store over 6,000 still images (with 10-megapixel camera) or more than 8 hours of video (for 6Mbps HD Extended recording) is now available for $308.