The well-known foremost imaging innovator, Kodak has announced the launch of its new Theatre HD Player, the interactive Wi-Fi-enabled device that able to display personal and web-based content including podcasts, music, HD still images (16:9 Aspect Ratio) and video (720p) on a HDTV, while wirelessly connecting to home network.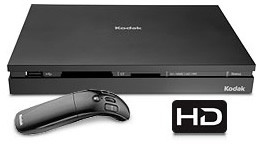 "The proliferation of HDTV technology has created a demand for HD content beyond standard television programming," said John Blake, VP and general manager for digital capture and devices, KODAK. "With the Kodak Theatre HD Player, consumers will relive the most cherished moments of their lives on their HDTV—the largest and highest quality display device in their home. Consumers will have the ability to do more than ever with their pictures, music and videos with easier and more interactive access to their personal content, as well as content from family and friends from around the globe."
According to the company, "Through unique partnerships with pioneers in photo sharing, such as KODAK Gallery and Flickr the KODAK Theatre HD Player provides consumers with easy and compelling ways to share pictures with friends and families. Additional partnerships with FrameChannel, a service of Frame Media, Inc., YouTube and RadioTime provide access to more than imaging content, offering an interactive and engaging multimedia experience."
The new KODAK Theatre HD Player that comes with wireless remote and compatible with USB drives and SD memory cards will be available in coming September for about $300.