In addition to KODAK PLAYTOUCH, Kodak has also announced the launch of its new 14-megapixel Kodak EasyShare M590, which the corporation claims as the world's thinnest digital camera equipped with 5X optical zoom, combining 2.7-inch LCD screen, Face Recognition, Smart Capture, Image Stabilization, HD video recording (1280×720 ; 30fps) and microSD/microSDHC card expansion slot into a single compact device.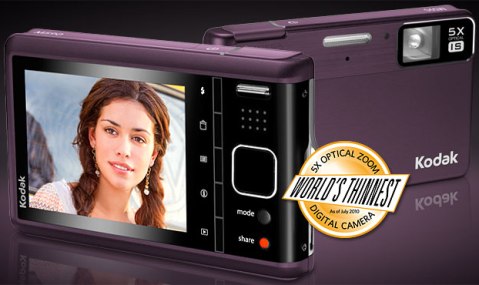 With Kodak EasyShare M590, users can easily tag photos and videos for uploading or e-mailing to popular social sharing sites like Facebook, KODAK Gallery, Flickr and Youtube, thanks to Kodak's (one-touch) Share Button.
"We are thrilled to see how people have embraced Kodak's Share Button as an easier way to share life's moments with family and friends, in three simple steps," commented Phil Scott, Vice President of Marketing, Digital Capture and Devices, Kodak. "With the new KODAK EASYSHARE M590 Digital Camera, we are continuing our commitment to bring to market innovative, intuitive and stylish products that make it fun and easy for today's socially savvy crowd to share all their favorite moments."
The new sleek, slim KODAK EASYSHARE M590 camera which measures 3.8 × 2.3 × 0.6 inches and weights in at 129 grams will be available in four variants of stylish color – silver, red, purple and blue, slated to hit the market later this fall for about $200.