Eastman Kodak Company has introduced its new KODAK PULSE Digital Frame, the digital photo frame which features 7″ touchscreen display, Wi-Fi connectivity and personal e-mail address, allowing users to easily send pictures wirelessly to the PULSE frame from their computers, handsets, Facebook and KODAK Gallery sites, aiming to enhance your photo sharing experience.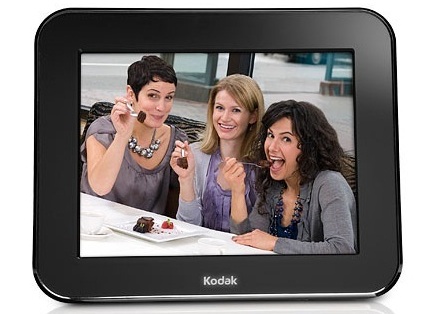 "Kodak believes sharing pictures should be simple, not a chore," said John Blake, General Manager for Digital Capture and Devices and Vice President of Kodak. "Picture this: you live on the east coast. Your parents live on the west coast. You just had a baby, so you give your parents a PULSE Frame to ensure that they can share in every moment of your child's life. You can send pictures by email from your smartphone or even through Facebook or KODAK Gallery. With the PULSE Frame, you always have something to look forward to as the frame refreshes with new pictures."
Features Of KODAK PULSE Digital Frame:
7-inch high-quality touch screen (800 x 600 pixels) with KODAK Color Science and LED backlighting
Built-in Wi-Fi capability lets users add pictures to the frame from your PC, Facebook and KODAK Gallery sites
Receive photos via e-mail from computers, mobile phones and more devices with email capability
Easy set-up with no software to install
512MB on-board memory stores up to 4,000 pictures
KODAK PULSE Digital Frame that can automatically refresh while users or their friends add new pictures to their photo albums on Facebook and KODAK Gallery sites is scheduled to be available for approximately $130 beginning April 2010.