Kodak, the technology leader in digital picture frame, has just unveiled a high end digital photo frames for consumer market. As different from its previous as well as competitors' photo frame products, this is the first one that is featured with OLED (Organic Light Emitting Diode) technology for perfect image quality. That is not all, it is further enhanced with Wi-Fi technology that is capable to receive any videos or photos streaming from server PC, making it an excellent network capable product in your living room.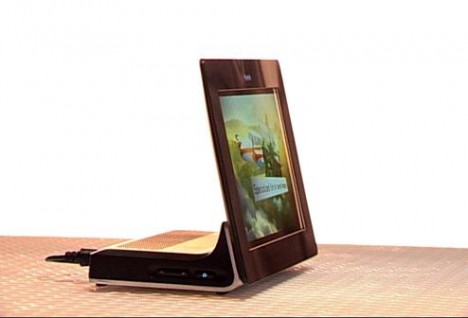 Thanks to its OLED technology, it doesn't require any backlight panel that makes the whole design even thinner and sleeker as compared to conventional digital photo frame. Besides, it is embedded with an ambient light sensor that can help to adjust the brightness dynamically based on surrounding lighting condition. Although with just a 800 X 480 resolution, but a diagonal size of 7.6-inch with 30000:1 contrast ratio will boost up the image quality significantly for viewing pleasure.
As a network capable device, user will be able to access to online websites such as famous Flickr, Kodak Gallery, FrameChannel for photo and video sharing sites. Priced at $999, it may be too expensive for average users. Anyway, the OLED wireless digital photo frame will be available to all consumers by November 2008.