The leading developer of smartphone peripherals for the entertainment and gaming markets, L5 Technology has announced a new tiny accessory and free application that able to turn your iPhone or iPod touch into a universal remote control, named as L5 Remote, which the company claims as a powerful alternative for replacing multiple and often-confusing remote control devices, controlling thousands of devices, including televisions, cable boxes, stereos, DVD players, ceiling fans, air conditioners, audio equipment and more electronic devices that come with an infrared remote right on your iPhone or iPod touch.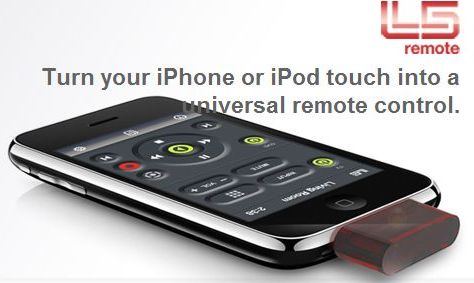 Key Features of L5 Remote:
Replace a coffee table full of remotes with the portability and simplicity of your iPhone
Drag and drop to design your first custom remote control
Fast and easy setup without the need of batteries, WiFi and wall plug
Infrared technology supports range up to 30 feet
100,000 button or 1000 remote capacity
Compatible with iPhone 3GS, iPhone 3G, and iPhone, iPod touch (generation 1 and 2) OS 3.0 or later
"With the fast pace of innovation in the smartphone market, handhelds are becoming the consumer electronics platform of choice, causing disruptions across many markets. We see peripherals that connect smartphones to the physical world as key components in the revolution," commented Wade McNary, founder and CEO of L5 Technology. "Leveraging the power, versatility, and portability of handheld devices, and following Apple's philosophy of design elegance and simplicity, we have solved a common problem. This one small device reverses a long trend toward complexity in remote controls."
The new L5 Remote hardware is scheduled to be available in coming February 2010 for a MSRP of $49.95, while the L5 Remote app is available as a free download from Apple App Store.