The leading provider of external storage solutions that help professionals and everyday people easily manage their digital lives, LaCie has released its new compact, portable LaCinema Rugged multimedia hard drive, named as LaCinema Rugged HD, which the company claims as the first high-definition multimedia player in its class that allows users to store and instantly enjoy full HD (1080p) content on any HDTV, supporting most of standard and high-definition video codecs including H.264, MKV, WMV9 and MPEG-4.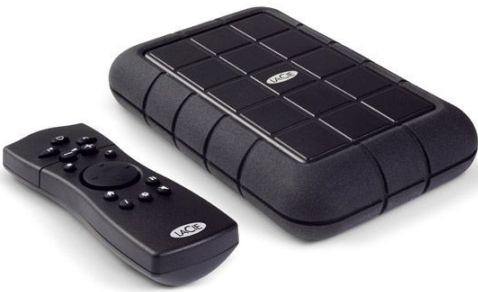 LaCinema Rugged HD that includes 500GB internal memory is both practical and user-friendly with its smart and simple user interface, connected to computer for easy, bus-powered multimedia loading via hi-speed USB 2.0, and access the content later through a HDTV thanks to HDMI connection, bundled with a remote control for navigation.
"When it comes to viewing High Definition content, it is hard to find a mobile form factor that that doesn't compromise important features and functionality, like built-in storage, format versatility, and integrated HDMI connectivity," commented Christelle Dexet, LaCie Multimedia Product Manager. "The LaCinema Rugged HD not only provides the ultimate mobile design, but it allows users to store large amounts of HD content and play it wherever they desire."
In addition, the hi-def multimedia hard drive features an unique scratch-resistant aluminum shell, internal anti-shock absorbers and shock-resistant rubber bumper to deliver better protection for your media files wherever you go.
The new compact, reliable 500GB LaCinema Rugged HD that compatible with all common digital formats is now available for about $350.