The leading manufacturer of computer peripherals, LaCie has launched its new usable, inventive mobile storage device – LaCie Data/Share, which awarded as 2009 iF product design by International Forum Design GmbH (iF). It's the cool USB device equipped with push/push SD and microSD connectors, aiming for quickly access to SD and microSD card content and instantly create a USB-ready storage key.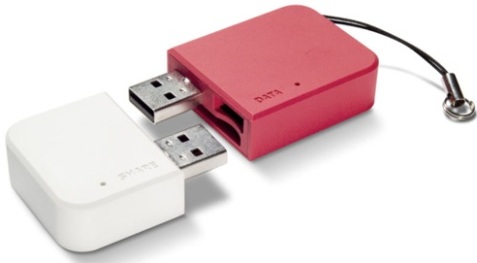 Powerful Features Of LaCie Data/Share Include:
Recycle old SD and microSD memory cards, and turn them into USB flash keys
Users can separate private data from public data
Hot pluggable and driver-free
Fast and reliable USB transfer rates of up to 480MB/s
"The Data/Share is a stylish way to make sure you can easily access and secure all of your data," said Alexis Kobassian, LaCie Peripherals and Accessories Product Manager. "We live in a culture that requires true data mobility and portability. At LaCie, we're consistently innovating and producing accessories that have sophisticated design, and the highest level of usability and functionality."
The new Lacie Data/Share that compatible with all SD and MicroSD memory cards on the market (SD/SDHC/Class 1 to 6) is now available for MSRP of $9.90.