LaCie has launched its new compact, elegant FastKey thumb drive, which the company claims as the smallest SSD USB 3.0 Flash drive, encased in a sturdy, stylish aluminum casing, combining solid-state drive, USB 3.0 interface, DRAM cache and AES 256-bit encryption into a single portable data storage device, capable of transfering 1000 mp3 or five DIVX files in less than 1 minute thanks to ultra-fast data transfer speeds up to 260MB per second.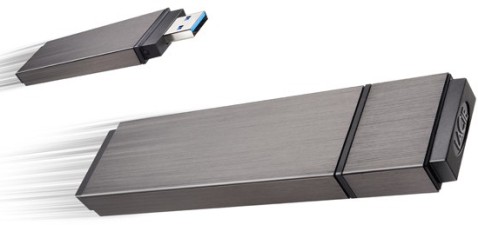 "With most flash drives, transferring a large number of photos and mp3 files can take a few minutes," commented Luc Pierart, Business Unit Manager for Personal Storage at LaCie. "With the Fastkey, transferring small files is immediate. You can back up or share your music and photo libraries as you head out the door."
LaCie FastKey SSD-based USB 3.0 thumb drive that offered in 3 variants of memory capacity – 30GB, 60GB and 120GB, are now available for $149.99, $249.99 and $474.99, respectively.