It doesn't feature an elegant or stylish look. In fact the typical square shape together with the black color code makes its look a bit dull. However, if you are looking for a small projector to compliment your Apple iPhones or iPods, the newly released iJector mini projector from Lancer Corporation could do the job.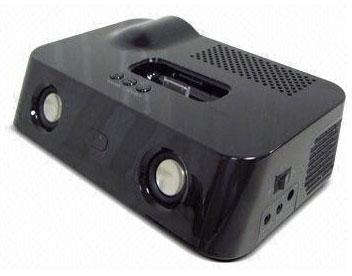 Despite its lack of charm, iJector features a handful of practical functions and specifications that might match your expectations. The tiny device generally supports all Apple iPod and iPhone models. Users can just plug their iPod or iPhone to the projector's docking station and project the contents directly from the phone. The projector is able to project the mobile contents on a 50 inch display onto the projection screen but with a pretty low 557×234 resolution. Besides the connection via the projector's docking station, iJector also comes with two 3 watt speakers and video input/output where users can connect it with other non-Apple devices. iJector
The Lancer iJector is priced for about $670, a fairly expensive price compared to many other projectors available.