The famous manufacturer of audio equipment, Bose has attempted to grab a market of PC audio by introducing its latest PC speaker system, named as Computer MusicMonitor. It's a small and stylish two solid-aluminium speaker system designed for desktop PC, notebook or iPod use via mini stereo audio jack, without the need to load drivers.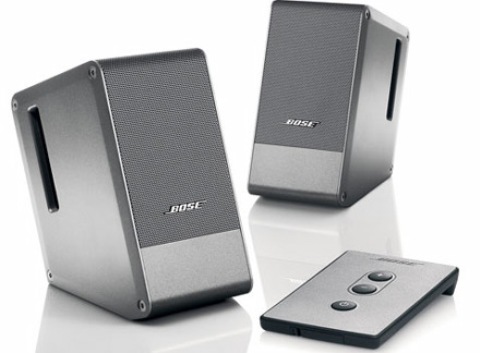 "I think the demand for smaller and better sound will never stop," said Santiago Carvajal, a Bose business manager who introduced the product to journalists at the company's headquarters in Framingham, Mass., a Boston suburb. "And this is our best effort to deliver lifelike sound from something smaller than we've ever done before."
According to Bose, these tiny speakers that come with remote control and "dual internal opposing passover radiators" will deliver a neutral, full range of sound utilzing new technology that produces profound bass without a subwoofer.
The new Bose Computer MusicMonitor speakers which measures at only 12.4 X6.6 centimetres will go on sale in coming October 4 for $399.