The world-wide leader in the development, manufacturing and distributing of imaging devices, Mustek has announced its plan to introduce the latest PF-i700 at the Consumer Electronics Show (CES) in Las Vegas. It's a brilliant color 7-inch digital photo frame (widescreen 16:9 aspect ratio ; 480×234 resolution) with an integrated Apple iPod docking station, aiming to enhance your beloved iPod experience.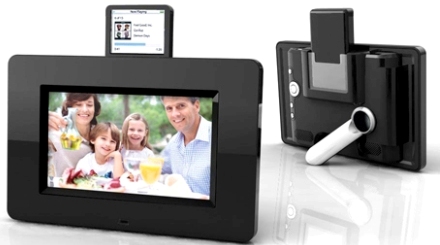 This new digital picture frame features an USB 2.0 port, stereo speakers plus a headphone jack as well as an integrated multi-card reader to import images from SD, xD-Picture, MMC, MemoryStick and MemoryStick Pro flash memory formats.
"For years consumers have stored their music libraries on iPods and now they're saving their favorite photos, TV shows, video clips and movies there, too," said David Ficken, National Sales & Marketing Manager of Mustek. "The new PF-i700 has the expanded multimedia capabilities to play all these digital entertainment options on one screen without the cable clutter, redefining today's iPod experience."
The latest Mustek PF-i700 Digital Photo Frame is expected to be available in March 2008 for around $130.