The world's largest supplier of flash storage cards, SanDisk Corporation has announced the latest addition to its award-winning SanDisk Extreme III family – 32GB SanDisk Extreme III CF (CompactFlash) Card, which provides increased capacity for longer-duration filming and even RAW images that need up to 10 times as much space as regular JPG images, aiming to meet the demands of professional digital videographers and photographers.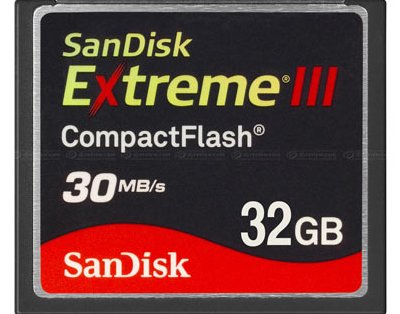 "High-definition camcorders require high-capacity memory cards, and our 32GB SanDisk Extreme III CompactFlash cards offer video professionals longer record times and improved data transfer rates," said Susan Park, director of consumer product marketing for SanDisk's performance cards. "Our award-winning SanDisk Extreme III CompactFlash cards carry a tradition of excellence, and the recent series-wide speed increase to 30MB/s advances their legacy as professional-grade storage devices."
"The 32GB SanDisk Extreme III CompactFlash cards are a great fit for our Infinity DMC 1000/10 and DMC 1000/20 camcorders," said Scott Sheehan, director of marketing for new and emerging markets at Thomson. "Our customers want a choice in media that meets the needs of their file-based workflows. Solid state memory provides the fastest access to such content, and with SanDisk CompactFlash it's also affordable. Using SanDisk's 32GB Extreme III CompactFlash card, our customers can record more than 80 minutes of 100 MB/s, 10-bit, 4:2:2 HD video at the high performance needed for today's professional video applications."
The latest 32GB SanDisk Extreme III CF card which features 30MB/s (200x) sequential read/write speeds will be available worldwide in coming October for about $300.