The Japanese consumer electronics giant, Sony has official announced its first ultra-thin television, named as XEL-1. It's an 11-inch OLED (organic light-emitting diode) TV measures just 3mm (0.12-inches) thick, about the same size as a coin. Besides, this extremely high performance TV will feature an incredible contrast ratio of 1,000,000:1, 960 x 450 resolution, 2 x 1W speakers and a low 45W power consumption.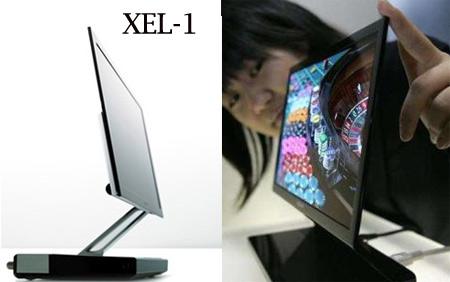 In addition, this OLED TV also sports an Ethernet and USB port to enable the connection to a PC for streaming media and an HDMI (High Definition Multimedia Interface) port for the connection of any other electronic devices.
"Some people have said attractive products are slow to come at Sony despite its technological strength," said Ryoji Chubachi, president of Sony. "I want this world's first OLED TV to be the symbol of the revival of Sony's technological prowess," he said, referring to the new technology. "I want this to be the flag under which we charge forwards to turn the fortunes around."
The new ultra-thin Sony XEL-1 OLED TV which has brighter pictures, higher contrast and better color than LCD and plasma TV is expected to be available in coming December 1, 2007 for 200,000 yen ($1,200).