Ad-Aware has been one of the same old famous anti-spyware solution that now also include real-time protection against spyware, trojans, rootkits, hijackers, keyloggers, and more threats. The new version of Ad-Aware – Ad-Aware Anniversary Edition, which supposed to be called Ad-Aware 2009 after Ad-Aware 2008, marks the 10th anniversary since the debut of Ad-Aware.

Ad-Aware – Anniversary Edition offers radically improved performance and efficiency, along with comprehensive malware protection. With real-time monitoring, threat alerts, and automatic updates you can rest easy knowing that you are protected.
Features of Lavasoft Ad-Aware Anniversary Edition:
Detect, Remove AND Clean
Ad-Watch Live! Basic integrated real-time protection
Rootkit Removal System
Radically improved resource efficiency
Lavasoft SmartSet
Customizable Profile Scans
External Drive Scanning
Pin-Point Scanning
Full integration with Windows Security Center
Easy to download, install & use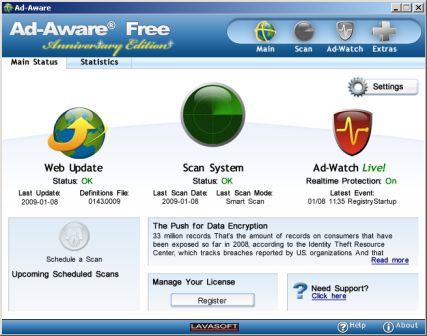 Ad-Aware has provided a free version since the product launch. Anybody who using the previous version of free Ad-Aware can upgrade to latest Anniversary Edition for free. Of course, the Ad-Aware Anniversary Free Edition is available for everyone's download too.
Download Free Ad-Aware Anniversary Edition: Ad-AwareAE.exe
No serial number, product key or registration code is required to activate or unlock Ad-Aware Free Edition.
Free Ad-Aware Plus 8.2 is also available.