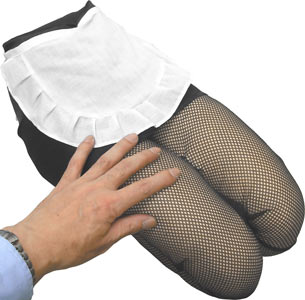 This is not just a pillow shaped like legs; it looks like real women's legs with stockings, miniskirt, apron, knees demurely folded and all. It is definitely out of place in a furniture shop but right at home in a sex shop. If you have the itch for women's legs but can't get hold of the real thing, this is just the gadget for you. Of if you have friends who have a thing for sexy legs, this pillow would make a sensational gift.

But the product does not come with instructions on how to use (or hug) it. It is so typical of the Japanese to design the legs so demurely close together that there is very little you can do with the pillow to satisfy your bedroom needs. You can't lie your head to sleep on it. You can't hug the legs as that would put you in a very awkward and unnatural position. You can't pry open the thighs or bury your head in it in ecstasy.

The legs resemble a Japanese bargirl kneeling down to serve tea – a contradictory work of art in itself! The pillow reflects both the hidden desire of the Japanese for more open sex and their conservative culture. The soft, faceless woman (pillow) bows in submission and sexually titillates at the same time. At $26, this might make a conversational piece in your living room, if you are not politically correct and have an eye for the avant-garde.