Lenovo, a giant laptop maker has announced a new charging adapter accessory kit for its ThinkPad Laptops. Named as PowerHub, it combines a 65W/90W laptop AC power adapter with additional 4-port powered USB hub integrated into its brick form factor ready for other usages.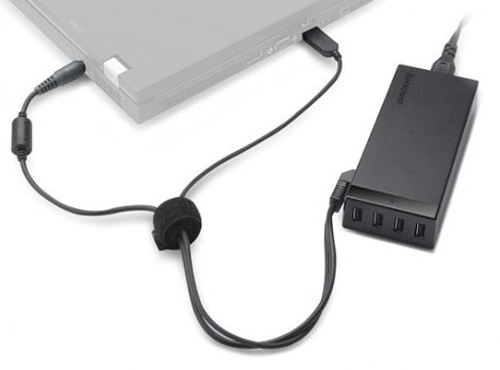 What makes this different from conventional charging adaptor is besides serving as normal AC adapter, there are additional USB hub functionality with four-ports being built that makes the whole solution more useful other than only providing power source to its Thinkpad series. While three of them can be used for USB data transfer and charging, the forth one is dedicated for charging only that can be greatly useful for charging mobile devices such as PDA or smartphones without relying on limited USB ports on the machine itself.
Compatible with 65W and 90W ThinkPad laptops and priced at $74.99 (excluding tax and shipping fee), the power adapter is already available for order online at Lenovo website. However, no information if this will be bundled as part of package when users purchase a new ThinkPad series, but it will definitely a great-to-have mobile companion accessories for those that require additional USB ports for data transfer or power charging while on the move.