Lenovo, one of the worldwide partners of the IOC (International Olympic Committee) has just launched a new MID (Mobile Internet Device) in conjunction with the Olympic event in Beijing, China. Named as IdeaPad U8, it is an ultra portable device powered by famous Intel Atom Z5XX series processor.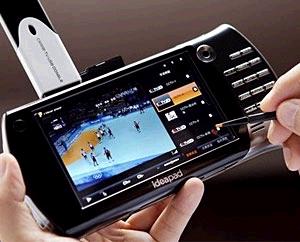 The MID is measured at only 173mm X 84mm X 21mm and weighted at only 350gram, which is quite portable to be carry around. Its sleek and stylish design with 4.8-inch touch screen display makes it the most suitable device to view favorite Olympics events on the move. Internally, the device is powered by Intel Atom Z510 processor clocking at 800MHz. It is further backed up with 2GB RAM and 6GB Flash memory for program and data storage. Besides, the small machine is enhanced with various wireless technology such as 802.11b/g WiFi, GPS, Bluetooth and TD-SCDMA 3G network.
However, in order to receive CMMB (China Multimedia Mobile Broadcasting) live Olympics games streaming, user will need to plug in an external USB dongle since it doesn't have embedded module integrated into the unit. Obviously, although this MID has been ready for some times but Lenovo purposely chooses this grand event to officially announce it to the world. No pricing is available yet, but the product is expected to be commercialized in Asia first, followed by North America and Europe in short future.