LG Electronics is the company specialize in electronics has announced its latest Super-multi DVD burner GH22, which supports recording of a full DVD in just 4 minutes and 30 seconds by using the 22x high recording speed on average to write 4.7GB data. LG's GH22 comes with 2MB memory and buffer underrun technology to make it fast, safe and enhancing 9% performance. It also features with 'Light Scribe' and 'SecurDisc'.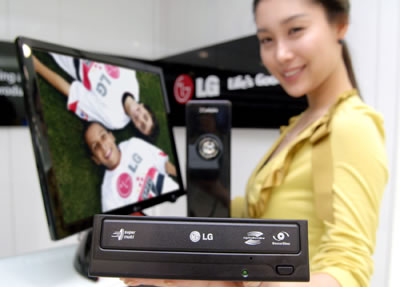 The 'Light Scribe' allows the GH22 to print images and texts on the surface of discs while 'SecurDisc' offers enhance security functionality like password encryption, adds a digital signature to all the data to allow recipients to verify data authenticity, detects altered data through checksums and increase the data reliability through redundancy stored data. Specifications include 22x writing
for DVD-R/+R, 16x for DVD+RW DL, 12x for DVD-R DL and 12x for DVD-RAM. It supports vertical and horizontal installation.
It expected to be available in second half of this year at approximately 30,000 won.