What is your expectation on next LCD technology? We have been seeing many LCD panel or TV with full HD capability in consumer electronics market and now the trend is moving towards 3D technology. Just recently, LG Display has unveiled its first LCD panel that can render 3D graphics on top of 1080p full HD display capability targeted for those that always need greater visual experience in digital home.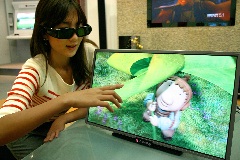 Named as LM230WF4, it is a 23-inch LCD panel embedded with high performance 3D engine that is able to decode and display great quality images and videos. And as usual, users will have to wear a special made 3D shutter glass in order to enjoy the special effect. Other hardware specifications include a 1000:1 contrast ratio, a 400cd/m2 brightness as well as 3ms response time and etc that would definitely make it an ideal panel solution that able to meet future consumers' demands.
No pricing and availability yet, we should expect to see more and more panel makers coming out with their own 3D capable display products including those LCD TV manufacturers such as Sony, Philips and etc. According to reliable source, Sony is predicting that almost half of all its future TV products will be 3D capable by 2013 due to consumer demands and widely support from the rest of eco-systems including the broadcasting company. Similarly for Korean market, there is a plan to have 3D broadcasting trial services by second half of 2010 to kick start the migration.