LG Electronics, a famous Korean panel maker has just unveiled a next generation LCD monitors targeted for enterprise and office use. Named as SmartVine N-series, they are enhanced with embedded virtualization technology leveraged from US based NComputing corporation that ensures smooth office system operation with shareable CPU resource running on a single host PC.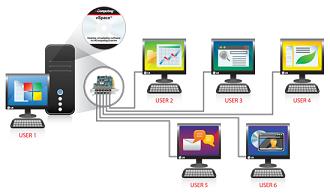 Besides able to use as normal conventional display monitor though VGA interface, the LG SmartVine N-series is further equipped with virtualization technology that can be stationed as a separate entity connecting to a host PC. According to the manufacturer, each NComputing X550 Integration kit can support up to ten virtual desktops with the company proprietary vSpace software for optimum performance. These next generation product lines include both 17-inch and 19-inch LCD monitor targeted for US market while a 16-inch version will be released for overseas market at the same time. With the desktop virtualization solution, it is forecasted to be able to reduce hardware cost by 60 percent, electricity cost by 90 percent and more importantly long term maintenance cost by 70 percent, which is quite significant for long run especially in current economy situation.
No detail pricing information yet, but these VT enabled panels are expected to fall under $199 price point for 19-inch series.