During current economy downturn, many companies can't afford to spend extra bucks and some are even initiating cost cutting effort to ensure smooth daily operation. In view of the situation, Igel has announced a new add-in card named as TC card that can transform aging desktop PC into a Linux thin client machine, hoping to be able to tap into the new opportunities when market is slow.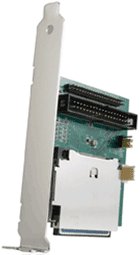 Typically, a new thin client costs around $150 to $500 depending on its functionality. And with the new solution offered by Lgel, those enterprises with tight budget will only need to spend $100 to purchase the PCI based card and they can turn their old PC machines into a powerful thin client station. Some of the features include the VDI support, ThinPrint, VOIP, VPN and Citrix ICA suitable for both consumer and industrial use.
While it seems to be low in both cost and maintenance, but the converted machine may not able to enjoy power saving capability due to hardware limitation. Also, there are some minimum hardware requirements such as the old machine needs to be at least Pentium II 500MHz or higher, with at least 128MB of RAM and graphics card with 8MB video RAM. Nevertheless, no doubt it is an alternative solution if there are too many aging desktop PC that needs to be recycled and the innovative solution from Igel would help to transform them into something useful to boost sales and revenue.
At the price of $100, it also includes a Linux compatible UMS (Universal Management Suite) remote management software and the product will be available for commercial market by June 2009.