Parrot from France has introduced its new communications device based on its wireless protocol of choice – Parrot Party Bluetooth Speaker system. This new speaker system streams audio wirelessly from any Bluetooth-enabled device.
Despite its name as Party Speaker, this new speaker system would not pack a punch though and is somewhat limited in terms of power. These speakers only register 3W on the power scale and perhaps there are just suitable for just one or two people at the "party".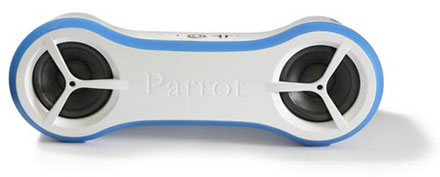 Parrot Party Bluetooth Speaker System measures nine-inches long and weighs 22 ounces. It comes with a built-in and rechargeable battery that allows you to play non-stop audio for up to four hours. The speaker system also features the standard RCA input for connecting audio sources that are not Bluetooth compatible.
This new speaker system from Parrot will be released in July for 119€, or about $160.