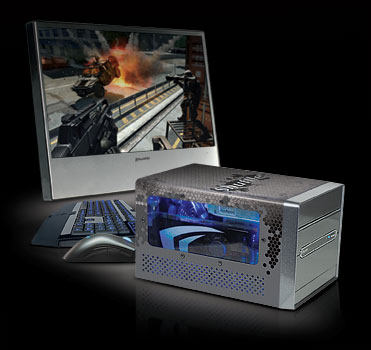 There is no limit to what a computer developer can provide in terms of the ultimate gaming satisfaction. Custom-built to be small, quiet and powerful, the SDXi Carbon Extreme gaming solution is the latest innovation by Shuttle to provide gamers with a machine which does not hold them back in the heat and height of competition.

Packed with the heady combination of Intel Core2 Extreme QX9770 processor, dual-slot Nvidia GeForce GTX 280 graphics card, and 16GB high-speed DDR2 memory, this powerhouse oozes promise and performance. Most importantly, the box is equipped with Liquid I.C.E cooling solution to greatly minimize and almost eliminate all heat and noise normally associated with this level of activity. According to Shuttle, this innovative cooling solution offers efficient performance in a super compact machine.
Exceeding expectations, the SDXi Carbon is a dream machine for users who live on the edge and push their computers to the limit for optimum performance.