If you had travelled a distance to work and suddenly remembered that you had forgotten to lock the house door, you can do so via Kwikset Smart Code with Home Connect without having to rush home or call a friend for help. Previous security systems could only notify users if their doors were not locked, but Kwikset's breakthrough invention allows users to actually lock the doors remotely and wirelessly. The built-in smart key technology has a motorized deadbolt which can be controlled via cellphone, remote control, security system touch panel, or a secure Internet connection. Installation is easy as the product runs on four AA batteries and users need only substitute their deadbolt with the Kwikset deadbolt.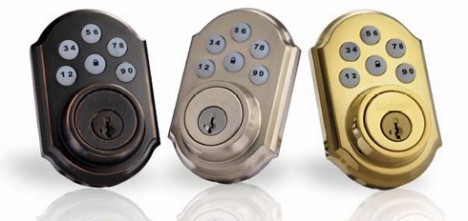 Users can activate the check door lock function, arm/disarm a security system, and control home automation devices through this keyless lock technology. Homeowners can use up to 30 customizable codes to arm/disarm their security system in seconds for improved access control and home security. In addition, home systems including lighting, music and temperature can be configured to suit the owner's routine. This feature can also be utilized to boost security by creating the impression that occupants are home even though they may be away.
Price details for Kwikset Smart Code with Home Connect are currently not available yet.