Incognito mode is a stealth feature (also known as porn mode as it allows visitors of adult websites to clean its trace automatically) in Google Chrome web browser that ensure ultimate local privacy and secrecy when browsing the web. When Internet surfers uses uses Google Chrome incognito window to visit web pages, the browsing history, search history, cookies, and other traces won't be tracked, saved or stored.

Google Chrome icognito mode has a unintended hack, i.e. allowing user to sign on or log in to two user account or user ID of same service simultaneously and concurrently in parallel. For example, user who owns two user name and password for Google Account with Gmail, Yahoo! with Mail, Windows Live ID with Hotmail, AOL Mail, MySpace, Facebook, Friendster, OpenID, and many other web services, which is common practice nowadays. Previously, user can't login simultaneously with into a same web application or mail service with two different user ID, as the cookie will be overridden, unless he or she is using another different web browser, which uses another cookie cache.
With Google Chrome, no other web browser is required. User can logon to his or her primary user account with normal Chrome window, and sign in to another user account in incognito window. Incognito window can be launched and opened by clicking on "Control the current page" button, and then select "New incognito window". Alternatively, just press Ctrl+Shift+N in Google Chrome browser.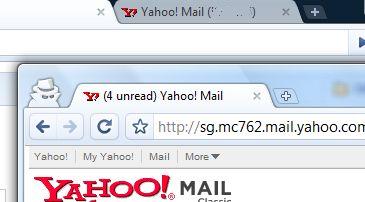 The incognito Chrome browser window can achieve the simultaneous concurrent of two login for most accounts because incognito pages use a temporary cookie store that is blank at the start of the Incognito session. In other word, the cookie cache storage is different from one used by the normal Chrome browser windows.
However, currently it's only possible to login twice (to two accounts) at a time, as incognito mode is a window-level mode (one process and one cache store for incognito mode), in order to avoid the confusion of having a tabstrip of mixed-mode tabs, according to developer documentation, although Chromium's backend is capable of running incognito on a per-tab basis.
Update: Google Account multiple sign-in and grant access to login multiple Gmail on single login, and check out more ways to login to multiple accounts of same website simultaneously on single browser session.