Google Chrome, with open source name of Chromium, is the latest foray by Google into the 'not-so-crowded' (considering billions of Internet surfers with just couple of popular browsers), but competitive web browser market. The most popular web browsers currently available include Internet Explorer from Microsoft, Firefox from Mozilla and Safari from Apple.

Google Blog has officially announced the Google Chrome yesterday, with link to a comic book to introduce Google Chrome (kind of teaser trailer). Luckily, users do not need to wait too long for the final (ops, it's actually beta, as with most initial product launches by Google). Google is officially releasing Google Chrome Beta for free download by everybody. The news has also been announced on Google Blog.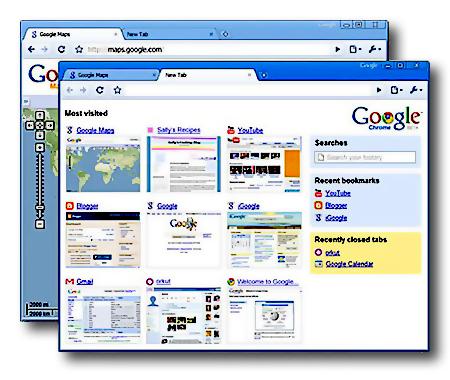 Screenshot of Google Chrome
And guess what, when it's a product from Google, it's highly recommended to try it out, since it's free, and unlikely to disappoint.
Google Chrome can be downloaded from http://www.google.com/chrome or from http://gears.google.com/chrome/?hl=en (for Google Gears). Here's also direct download link to ChromeSetup.exe.
As Google Chrome is open source, users who interested can also view or download its source code at Google Code too.