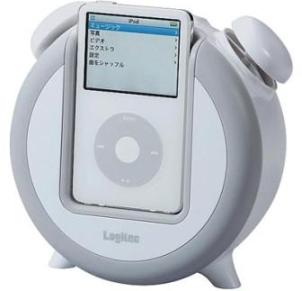 If you are the iPod owner, here got the good news is just for you, turn the Apple iPod player into a fully fledged alarm clock!
Logitec is coming up with the LDS-iALARM, which features an old school alarm clock look, but it's actually a dock for your Apple iPod, letting you wake up to whatever tunes happen to fill your collection. In addition, this "iPod" alarm is also featuring twin speakers (2×6W) and therefore gives the Apple product yet another use!

After you own this dock, just slot your Apple iPod into the alluring plastic clock face, then set the alarm. And you can now awake not to the sound of bells a-ring-tingling, but to your favorite music track of choice. However, you still need to go through the configuration of the settings on your iPod because there is no LCD display on the LDS-iALARM dock itself. Besides, the LDS-iALARM can perform as a charger stand to charge the iPod as well, making it remarkably useful.
LDS-iAlarm is available in black or white to suit your Apple iPod.