The world leader in personal peripherals, driving innovation in PC navigation, Logitech has introduced its new and innovative Harmony One advanced universal remote control with an 2.2-inch color touch screen, aiming to reduce the clutter and complexity of your living room. In addition, the Harmony One has received the CES (Consumer Electronics Show) 2008 Design and Engineering Award: Best of Innovations in Home-Entertainment Accessories.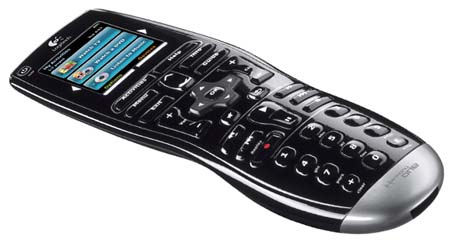 Overview And Key Features Of Logitech Harmony One:
Full-color touch screen to offer you easy, one-touch access to any entertainment activity.
One-touch access to your home-entertainment activities you love. Want to watch a DVD? One simple press of the touch screen and the Harmony One remote does the rest.
Replaces up to 15 remotes
Sculpted, backlighted buttons in logical zones to allow you to find the right channel – even in the dark.
Ergonomic and rechargeable design
Guided online setup to load commands from world's largest A/V control database
"The Harmony advanced universal remotes have been highly successful at providing easy, one-touch access to favorite activities, such as watching TV, playing a video game, or listening to music – all with a single remote," said Ashish Arora, vice president and general manager of Logitech's Harmony business unit. "To further improve our lineup, while developing Harmony One, we sought to intimately understand the interaction between people, their remotes, and their entertainment systems. In fact, Harmony One is the result of our most comprehensive research and development undertaking ever – more than 20,000 hours."
The Logitech Harmony One is expected to be available in the U.S. and Europe in coming February with a (SRP) suggested retail price of $249.99.