Logitech has announced the launch of a pair of new Logitech headsets equipped with a noise-cancelling microphone – Logitech Laptop Headset H555 and Logitech USB Headset H530. Both of them support super wideband audio (developed by Skype) that allows a larger range of frequencies to ensure your voice sound more natural, and able to deliver clear, superior digital sound via a single USB plug-and-play connection.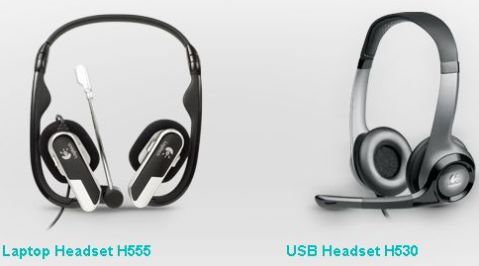 Key Features Of Logitech Laptop Headset H555:
Easy-to-carry, flat-folding headset to easily fit in the included case
Behind-the-head design with adjustable ear pieces
Super wideband audio complemented with pure digital USB connection
In-line audio controls for managing the volume
"We've learned from customers that better quality audio is one the most important factors in selecting which headset is right for them," commented Yehia Oweiss, Logitech Regional Director for UK & Ireland. "By supporting super wideband audio, the new Logitech headsets H555 and H530 help make your Internet and video calls sound crystal clear."
Key Features Of Logitech USB Headset H530:
Laser-tuned drivers ensure high-grade audio quality with minimal distortion
On-ear audio controls for instantly adjusting the volume
Super wideband audio and Pure digital USB connection
SoundSwitch equalizer to optimize EQ settings for Internet calls, music and PC gaming
Ultimate comfortable fit thanks to padded foam headband and cushioned ear cups
Logitech Laptop Headset H555 and Logitech USB Headset H530 that fully compatible with Logitech Vid HD, Skype 4.0 for Windows or later, and Skype 2.8 for Mac or later will be available this month for around £55 and £45, respectively.