Logitech has officially announced the launch of its new THX-Certified 5.1 speaker system – Logitech Z906 Surround Sound Speakers, which is designed to shake your living room with the power of 500 watts (RMS) crystal clear theater-quality sound, capable of connecting up to 6 audio devices at the same time, including your TV, DVD, DVR, Microsoft Xbox 360, Sony PLAYSTATION 3, Nintendo Wii, Apple iPod and so forth.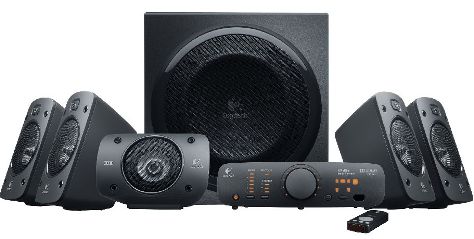 In addition to THX certification, Logitech Z906 Surround Sound Speakers that incorporate analog and digital inputs also feature Dolby Digital 5.1 decoding to offer users an immersive, superior audio experience.
"We're delighted to offer consumers a successor to the highly acclaimed Logitech Z-5500 Digital 5.1 Speaker System," commented Mark Schneider, vice president and general manager for Logitech's audio business unit. "The Logitech Surround Sound Speakers Z906 are the logical evolution of surround sound speakers, and we're confident they will become an indispensable part of the living room."
Logitech Z906 Surround Sound Speakers that includes a subwoofer (165 watts of deep bass), 5 wall-mountable satellite speakers, a speaker connection wire, 6-foot 6-channel direct cable, a stackable simple-to-read control console and a remote control is expected to be available this month for a SRP of $349.99.