It can be quite enjoyable viewing photos uploaded and shared by your Facebook friends especially on some meaningful events such as wedding dinner, birthday party, company trip, etc and you were one of the participants of the event. You might want to download these photos for printing, burn them into a CD, compile them into a video clip, share with others who are not on Facebook, etc. In the past, we shared a Firefox plugin, FacePAD, which allows users to quick download the entire album of the photos uploaded by your friends into their computer for later viewing. If you are looking for some tools that do more than just bulk downloading, check out Fotoboune, a pretty useful desktop application that can help you to manage, download and upload photos conveniently.

Running on Window XP, Vista and Apple OSX, Fotobounce is a free photo management application that helps you to organise and manage your Facebook as well as Flick accounts directly from the desktop. Once it is installed, users can download their friends' photos, upload photos to share, do photo tagging, manage their own album, etc via this desktop application without the hassle of opening up the Facebook account via a browser.
Fotobounce is quite easy to use. When it is installed and first run, users need to create a library for the program. Once it is done, users can go to the navigation panel and select Facebook Albums (or Flickr Albums) to connect their albums in Facebook.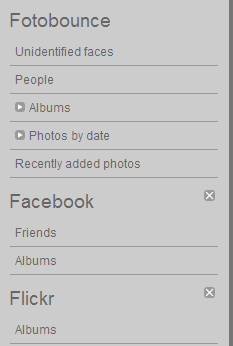 Users will thence be prompted a login Windows which require users to login their Facebook account: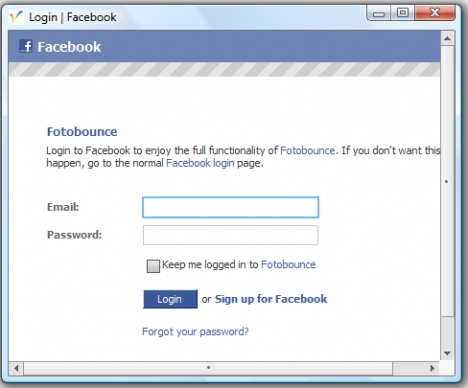 Once users have logged in, users will see their friends' list shown in thumbnail format.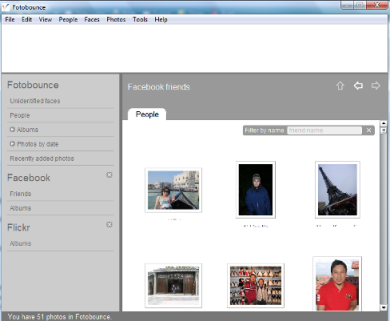 Users can click on their friends' photos to navigate further their friends' uploaded album. If users identify any good photos and intend to download them to the desktop, they can just right click the mouse and select download.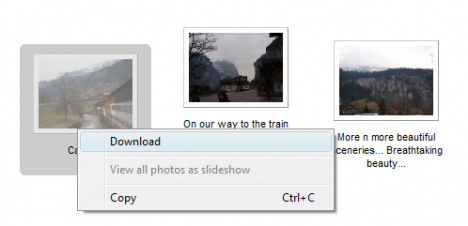 Fotobounce offers a straightforward way to liaise with photos from your Facebook (and Flickr) account. Besides conveniently uploading and downloading photos, users also can make use of Fotobounce's built-in face recognition feature to do quick photo tagging. Users who want to give this application a try can download it via: