Marvell, a fabless chip marker has just announced a tiny plug computer for consumer market. The unique miniature computer, with the name of SheevaPlug is powered by Kirkwood SoC (System on Chip) clocking at 1.2GHz that can be used to support various applications such as remote print server, web server or media server by just plugging into conventional wall socket together with necessary peripherals in digital home.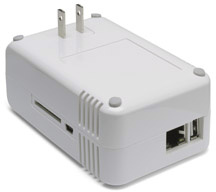 SheevaPlug is further supported by embedded 512MB Flash/DRAM with a small foot print open source Linux Kernel version 2.6 running on it. Just imagine, now you can run some Debian based OS, such as Fedora, Ubuntu or etc with suitable applications for various purposes. Impressively, SheevaPlug can be featured with both USB 2.0 host and Gigabit Ethernet ports but still able to fit well in sub 5-watt thermal envelope for ultra low power and fanless applications.
SheevaPlug is currently available for sale and at a price tag of $49, it is definitely a good buy in view of its great appearance and functionalities as a networked capable device in your digital home.