Marvell, one of the industry leading wireless communication manufacturers has just unveiled a new 802.11n compliant wireless LAN chip for high end residential gateway segment. Named as TopDog® 11n-450, it is the industry's first wireless chip that able to achieve 450 Mbps, targeting for multiple HD (High Definition) media streaming in digital home.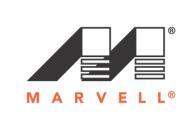 The achievable bandwidth is about 8 times higher than conventional 802.11g and 1.5 times higher than existing 802.11n solution offered by other competitors. On top of bandwidth improvement, the new chip also offers longer range without performance degradation as compared to current available solutions in market. Thanks to the STBC (Space Time Block Coding) technology deployed by Marvell that able to boost up silicon performance significantly. Also MIMO (Multiple In Multiple Out) feature plays an important role in aggregating total bandwidth by utilizing 3 pairs or built-in transmitters and receivers. MIMO is a smart antenna technology that allows higher data bandwidth and longer coverage range by utilizing spatial multiplexing and spectral efficiency.
Marvell will be having demonstration booth to showcase its new products during upcoming CES held in Las Vegas early next week. Since this bandwidth value is only theoretical, I am hoping to see the actual performance measurement that may varies due to local environment.