Now you can beam your PC's movie to TV, wirelessly and effortlessly with MediaGate MG-450HD.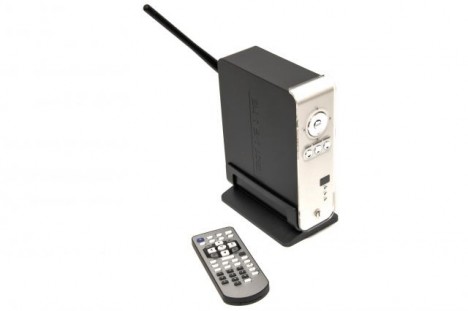 The first thing you need to do is to connect the MediaGate to the TV, via Composite, S-Video, HD components (Y, Pb, Pr at 480p, 720p, or 1080i) or HDMI (480p, 720p, 1080i, or 1080p). Audio out is a typical left-right stereo or, if your TV has it, coaxial or optical digital.
With Hard Drive
To stream the movies from PC to TV, the easiest way is to copy the videos onto an external hard drive. Then, bring it into the room where the MediaGate is connected to your TV. Connect the external drive to the MediaGate's mini-USB 2.0 port, turn it on, fiddle with the remote, and start watching. Despite external connection, the videos played perfectly without lag or stutter.
Alternatively, the movie can be installed inside the MediaGate. Install a SATA drive (formatted as FAT32 or NTFS) inside the MediaGate. It takes few minutes to install the hardware and the process is similar with an external hard drive. Copy movies from your PC to the MediaGate and connect it to the TV. With internal drive, it gives the advantage of flexibility and portability. Apart from that, the device can also used as external hard drive.
Wired or Wi-Fi Connection
If you have a home network, you can play the movie by plugging the Networking Cable to the LAN port of the MediaGate. The network would recognize the MediaGate as anotherr PC/Printer.
A better alternative is to beam the movie with MediaGate's 54-mbps 802.11g. With the help of manual, you should be able to get the MediaGate working in less than 30 minutes.
Features
Has one 10/100 LAN port
Supports USB2.0 host/slave
3.5-inch HDD is user-installable
Supports HD MP2, MP4
Supports MP1/2@HL (720p/1,080i), MP4@L5 (720p) and MP@ML (720p)
Supports composite, S-video, component video outputs
Supports stereo L/R, optical/coaxial digital audio, analog 5.1 channels
Supports JPEG/BMP/GIF/PNG still picture
File-surfing from multiple sources on TV using a remote controller