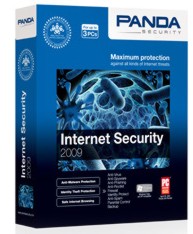 Panda Internet Security 2009 is another Internet security solution which provides wide-ranging protection against internet threats such as viruses, malware, hackers, spyware, rootkits, online fraud, identity thefts and so on. It offers IM protection, a personal firewall, various anti-phishing measures, a spam filter, data backups, heuristic-based pro-active protection, parental control, a multi-purpose antimalware engine and various identift theft protection tools. It gives users peace of mind while surfing the internet and minimize the possibilities of damage due to the security threats. In conjunction with Microsoft's IT security campaign "Protect Your PC", the Redmond company has collaborated with the security expert, Panda Security, to give a 3-month FREE service for users to enjoy security protection against these malicious threats.

Even though it is only valid for three months, the free Panda Internet Security 2009 gives users an opportunity to try the security solution without additional costs and protect users from sophisticated viruses and malicious programs.
Users who want to grab this free Internet security tool promotion can download it via the link here. Once it is installed, users need to follow the instruction described in the program in order to activate all the services and features in the latest Panda Internet Security 2009.
Below is a summary of Panda Internet Security 2009's key features:
Anti-Malware Engine
Advanced Proactive Protection
Personal Firewall
Anti-Phishing Filter
Anti-Banking Trojan Engine
Anti-Rootkit Technology
Anti-Spam Filter
Parental Control
Web Filter
Personal Information Filter
Backup & Restore
Update: Free Panda Internet Security 2010 with 3 months license