Panda Internet Security is a comprehensive security suite that protects system from viruses, spyware, trojans, spam, rootkits, hackers, online fraud, identity theft and all other Internet threats. The new Panda Internet Security 2010 comes with user-friendly interface and effective protection against Internet threats with minimum impact on PC performance. In addition, it also comes with SmartClean technology, TruPrevent Technologies 2.0 and ultrafast scan engine which is 30% faster than its predecessors. On the other hand, Panda Internet Security can also automatically analyze and classify thousands of new malware samples per day. Panda Internet Security 2010 has improved and updated cutting-edge virus-scanning techniques, USB protection system, antirootkit techniques, antiphishing heuristics, and faster scans (even while multitasking).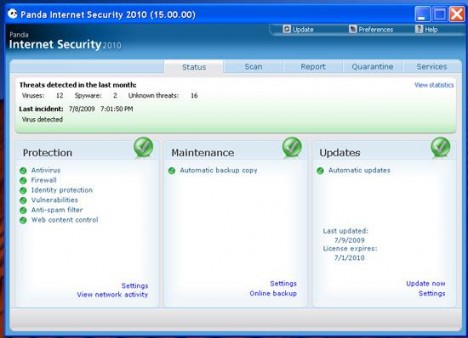 Features of Panda Internet Security 2010
Anti-Malware Protection
Safe Internet Browsing
Scans files in real-time and on-demand
Scans emails before they reach your inbox, regardless of your email program
Scans Internet traffic regardless of your browser type
Scans Instant Messaging traffic in MSN Messenger, Windows Live Messenger, Yahoo Messenger and AOL
Removes all traces of clutter left by spyware on your PC
Protects you against Internet-borne worms and hacker attacks
Smart auto-configuration allows good programs to run while blocking malicious ones
Wireless Monitor protects your wireless network from intruders
Specialized heuristics and generic detection techniques ensure maximum protection for online transactions
Panda Internet Security 2010 (aff)
normally cost $59.95. Panda Security is available in more than 23 languages and millions of users located in 195 countries around the world. As part of promotional offer from Web of Trust (WOT), in partnership with Panda Security, Panda Security is giving Panda Internet Security 2010 to all WOT members for three months for free.
Interested users who might try this new Panda Internet Security 2010 can head to the following URL:
http://www.mywot.com/en/panda/internetsecurity
Or use direct download links below to download and install the free three months subscription validity Panda Internet Security 2010.
Panda Internet Security 2010 with Free 3 Months License Direct Download Links: http://www.mywot.com/files/downloads/panda/panda10_3.exe
Update: Offer expired and reverted to 1 month free trial. Check out Panda Internet Security 2010 free 1 year license.