Microsoft has announced its new Bluetooth Mobile Keyboard 6000, which the company claims as its thinnest keyboard ever – just a few millimeters thicker than AAA battery at the rear, made exclusively for Bluetooth notebook and desktop computers, aiming to provide users a comfortable and portable computing experience.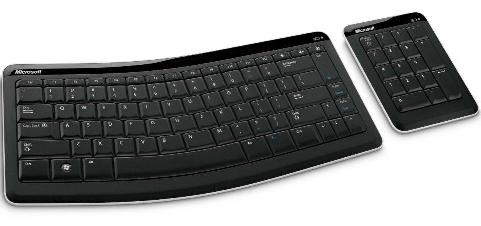 In addition, Microsoft Bluetooth Mobile Keyboard 6000 which incorporates Comfort Curve design for more ergonomic typing experience also features a portable Bluetooth Number Pad that can be used with the keyboard or by itself for added productivity.
"The design tenets of compact, clean and refined really set the stage for the success of the keyboard," said Chris Kujawski, industrial designer at Microsoft Hardware. "There is nothing extraneous about the design. We removed everything that didn't fit with those ideas and ended up with something we're really proud of — a compact, sophisticated keyboard that pairs perfectly with Bluetooth computers."
The new sleek, ultra-thin Microsoft Bluetooth Mobile Keyboard 6000 and Bluetooth Number Pad (bundled with a carrying case) that backed by a worldwide 3-year limited hardware warranty will ship in coming October for around $90 and $45, respectively.