With the tagline of "Curve for Comfort, Flatten to Pack", Microsoft Arc Touch wireless mouse is destined to be unique, special, different and stand out among the crowd. True to its promise, the Arc Touch mouse features a beautiful, elegant sleek, very portable, slim, compact and curvy design which will sure attract envy eyes and praises.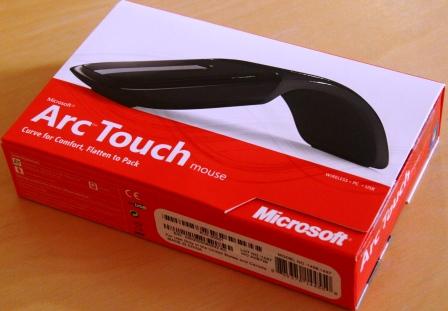 The Microsoft Arc Touch mouse comes as a flat peripheral where its rubbery rear/back is flexible. It can be bended and locked to click into a typical mouse shape, serving several purposes including providing ergonomic support to the palm and wrist, turning on the mouse, and to make the mouse easy to carry for mobile computing while flatten, which makes the mouse not more than half an inch in thickness. The Arc Touch mouse also substitute the scroll wheel between the mouse buttons with a capacitive touch strip with sensor pads, which uses tap and flick for control, and also serves as the gesture-triggered middle button for the mouse.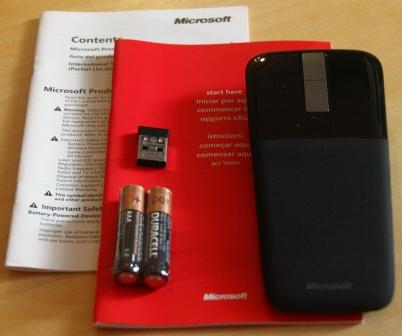 Otherwise, the Arc Touch mouse has all the features which a typical mouse has. It mouse tracking sensor is using the Microsoft BlueTrack sensor technology, which promises improved accuracy and support for more difficult surface such as rough glossy, or soft surface. It has a 2.4 GHz wireless nano transceiver for convenient plug-in and forget. While most expensive mouse has a pocket or slot to store the nano transceiver, the Arc Touch mouse doesn't (since it's flat anyway). Instead, a magnetic field at the bottom of the mouse allows the nano transceiver to be snapped to the mouse. So it's very easy to store the nano transceiver, no cover to open or close, but if you're not careful, the nano transceiver may looses or drops off from the attached position especially when hit or push by other objects.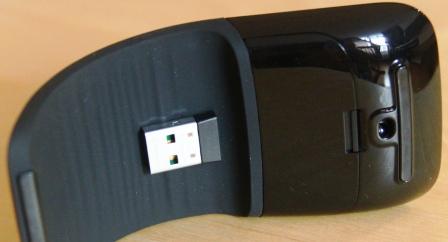 The design of Arc Touch mouse is innovative and outstanding, but I need a period of time in order to get used to using the Arc Touch mouse, mainly due to the touch strip as replacement for scroll wheel, and the stiffness of the left-right click buttons. The touch-sensitive scroll strip provides haptic vibration feedback when touched, which is a nice feature, and the scrolling on touch strip is smooth and fluid. But some users may found that, at least initially, it's harder to accurately position the mouse through slide the finger up and down using the touch strip when comparing with scroll wheel, especially when there is moisture on the finger.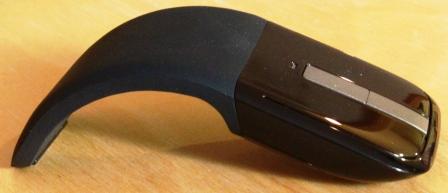 All actions on Arc Touch mouse is done on the touch strip, which provides several ways to use the mouse, such as slide finger up and down to scroll, flick finger up or down to scroll quickly, tap at the top or bottom to page up or page down there is issue with using the touch strip accurately to scroll haptic feedback, double-tap in the middle to middle-click, double-tap and hold to middle drag and etc. As a result, the Arc Touch mouse does not have any other buttons at the side or anywhere else except the left button, right button and touch strip. In addition, mistake can be made to trigger action that is not intended, such as accidentally flick instead of slide, or tap instead of double tap etc. Don't worry, the "start here" guide that comes with the mouse provides detailed information on how to use the mouse.
Other than learning the trick to use the touch strip, setting up the Arc Touch mouse is easy, just like how you would use any new mouse. Just plug in the nano transceiver into USB port, and fold out the mouse to turn it on. On first use on Windows 7, the Microsoft IntelliPoint Mouse and driver software is automatically downloaded and installed. The software allows user to customize and change the button assignment, enable or disable tap to page up or page down, flick, acceleration scrolling, vertical scrolling and vibration feedback. So if you regularly touch wrong actions, just disable the unwanted actions.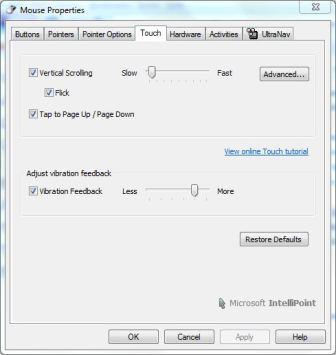 The responsiveness and accurateness of Arc Touch mouse is good, and no lag is been felt when tracking using the mouse. The only exception is of click buttons which I felt are too stiff, and requires stronger press. The issue also indirectly cause frequent unintentional movement of mouse when clicking due to imbalance weigh distribution.
The Arc Touch mouse measures 2.28″ x 5.14″, which shorten to 4.2″ when snapped into arc shape for use. Although the mouse is beautiful, the front part of the mouse has glossy surface, which attracts fingerprint, while the rear part has rubbery surface, which attracts lint and dirt easily. In addition, due to its design, the Arc Touch mouse may not feel comfortable or normal when gripping in hand, as it's more squarish than most mice in the market when snap into use. I found that the size of the mouse is just nice for my hand, so if you have small hand and short finger, or big hand and long finger, you may found that the mouse is not so convenient to use.
Another question probably on many mind is how long can the snapping and bending mechanism of the Arc Touch mouse lasts. Microsoft claims that snapping action is good for at least 40,000 cycles. I continuously bend and unbend the mouse, and found no harm been done. Of course, the true roughness of the mechanism cannot be determined within a short span of time.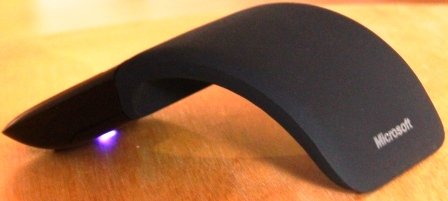 As a wireless mouse, the Arc Touch mouse is powered by two AAA batteries (included in the box), for which Microsoft claims can last up to 6 months – not very impressive even if it's true, but acceptable.
The Arc Touch mouse is has a MSRP of $69.95 at microsoft.com, a not-so-cheap price tag for a mouse which is considered to pack more style than substance rather than a high-end advanced mouse. However, cheap deal is available, such as on Amazon
(aff), where the price drops to $49.95 or lower.
Overall, the Arc Touch mouse is an attractive mouse which will surely help its owner making the statement as technology pioneer. For people who looks for cool gadgets, Microsoft Arc Touch mouse is definitely a must have. The Arc Touch mouse is also suitable for frequent travelers who don't want a mouse which is too small, but the travel bags do not have room for a bulky mouse, where the slim when flatted (folded out) Arc Touch mouse can fill the bill. But for people who is looking for an extremely usable, reliable, comfortable or feature-packed mouse, it's best to get a mouse to try prior to making a purchase if possible, or else just give it a miss.
Rating: 8 out of 10 (more for innovative stylish design than usablity)
Disclosure: My Digital Life received a Microsoft Arc Touch Mouse for reviewing.