Here's got a good news for gamers! Microsoft has teamed up once again with Razer to bring the world a new gaming keyboard, the Reclusa. This Microsoft Reclusa keyboard is the second collaborative effort between Microsoft and Razer. The partnership has seen the first product in Habo mouse, which is a great success in gaming market.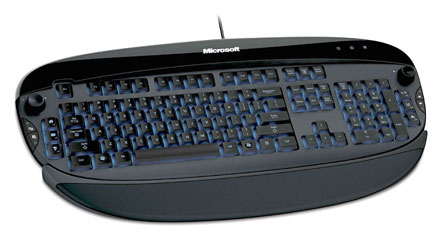 The Reclusa gaming keyboard looks like a Microsoft keyboard, except it's got a blue LED backlighting which let the keys remain visible in low light or no light condition and a bunch of macro keys added on. In addition, the Microsoft Reclusa keyboard also features 12 programmable hot gaming keys where some of them are two 360-degree jog dials and a couple of bumper buttons located on either side of the keyboard.
This fantastic keyboard can set gamers apart from their competitors with its advanced feature set and best-in-class design elements like ambient backlighting for a more pleasant gaming experience. The Reclusa keyboard is very silent and feels great while gaming and typing, and it cost for about $60. With fantastic Reclusa gaming keyboard, your gaming experience will definitely enhanced.