Microsoft has announced the launch of its three new webcams – Microsoft LifeCam HD-5000, LifeCam HD-5001 and LifeCam HD-6000 for notebooks, which feature a 720p HD sensors, Auto Focus technology, and TrueColor image processing technology that automatically adjusts the image quality to deliver a more colorful, brighter video in even the worst lighting conditions.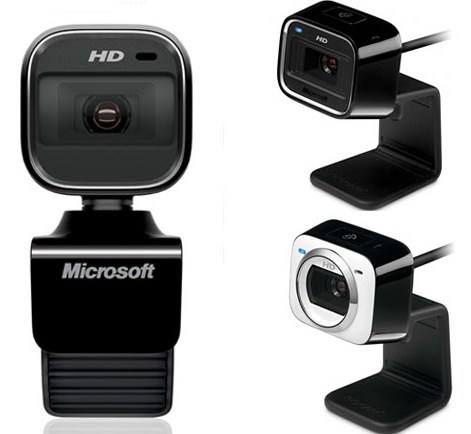 "Color quality and brightness are critical aspects of video calls. Through our research we know that a large number of video calls are held in either low light conditions or uneven lighting, and these are challenging situations for any webcam and represent a common pain point for webcam users," said Daniel Anguiano, product marketing manager of Microsoft Hardware. "Our engineers at Microsoft Hardware created TrueColor Technology to improve the video experience, combining software and firmware to help people look bright and natural in virtually any lighting situation."
Features of Microsoft LifeCam HD-5000 and LifeCam HD-6000:
Records true 720p (1280×720 pixels resolution) HD-quality widescreen video at up to 30 fps
Auto Focus ensures images stay sharp and detailed
New TrueColor technology automatically controls exposure for superior color quality and brightness
Optimized for Windows Live Messenger
Compatible with Windows Live, Yahoo! Messenger, AOL Instant Messenger and Skype
Flexible attachment base bends to fit on most surfaces (LifeCam HD-5000 only)
360° (degree) lens rotation for an all-around view (LifeCam HD-6000 only)
According to Microsoft, LifeCam HD-5001 includes all the same features as LifeCam HD-5000, but sports a custom design with a white faceplate.
The new Microsoft LifeCam HD-5000 and LifeCam HD-5001 will be available later this month for around $50, while Microsoft LifeCam HD-6000 for Notebooks is scheduled to hit the market in May 2010 for about $60.
Watch the promo video of new Microsoft LifeCam with groundbreaking TrueColor technology below.