There are many cases where Microsoft Office 2007 cannot be uninstalled properly from the system by using Add and Remove Program or Uninstall Program of Control Panel, normally with setup failed and rolling back changes error message. The cause of the uninstallation problem is vary, such as corrupted or invalid components or remnants from prerelease or trial version of Office 2K7, or invalid registry value after attempting to hack Office 2007 trial version into full version, or when installing different editions of Office multiple times.

When it's impossible to automatically uninstall Microsoft Office 2007, or 2007 Office System suite or standalone programs fail to, cannot or unable to uninstall automatically, users can always manually uninstall Microsoft Office 2007. For users who want to do a quick deletion of all registry keys, values and entries added by Office 2007 System, here's a script program to delete and remove all registry entries added by Microsoft Office 2007 System setup, and can be used to force uninstall 2007 Microsoft Office System.
The Microsoft Office 2007 Registry Complete Removal Tool will delete and remove all Microsoft Office 2007 related entries in the system registry to return and restore system registry to clean state before Office 2007 is installed. It can be used as a supplement utility to completely uninstall Office 2007 System, before deleting the installation files and folders of Office 2007.
WARNING: This tool is meant for users who need to reinstall or who wants to install again Microsoft Office 2007, as without proper uninstallation, Office 2007 does not allow new installation. The utility will delete large amount of registry keys, which may affect system stability upon deletion if Office 2K7 is not installed again.
Download Microsoft Office 2007 Registry Complete Removal Tool: Office2K7DelReg.zip (Download removed due to Demand for Immediate Take-Down: Notice of Infringing Activity NoticeID:111634363242022708. Please visit http://support.microsoft.com/kb/290301 or http://support.microsoft.com/kb/971179 for proper non-Control Panel uninstallation method)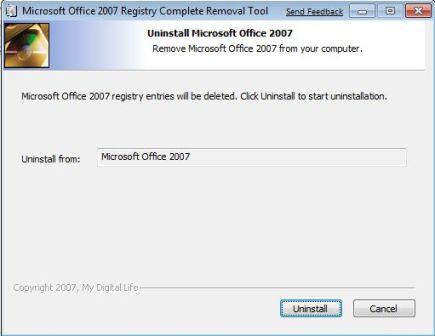 Usage Guide
Extract the content of the ZIP archive to a folder, and then run Uninstall.exe. Click on Uninstall to start the uninstallation by registry removal of 2007 Office System suite. Backup your registry before proceeding by running Registry Editor, and then export complete registry hive.